Find the best volleyball shoes for liberos here. A libero is a player who specializes in defense. They will provide opportunities to attack the opposing end of the court as they anchor the defensive end.
If you want to make defensive plays that will help your volleyball team win, you'll need the best libero volleyball shoes.
11 Best Volleyball Shoes for Liberos – Top Reviews
You should purchase volleyball shoes that will help you make your defensive moves effectively as a libero. It is important that they are comfortable and enhance your performance during the game.
In terms of quality, I reviewed a number of high-quality models.
Mizuno Wave Momentum 2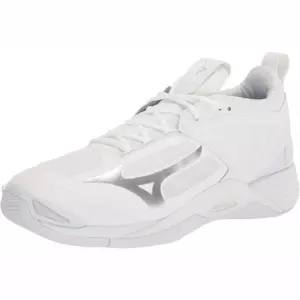 A high-performance best volleyball shoe for liberos, the Mizuno Wave Momentum 2 is designed for indoor play. A top choice for volleyball players of all levels due to its perfect combination of support, stability, and traction. Wave technology is one of the Wave Momentum 2's standout features.
In Volleyball, most players jump in the game, and these shoes are specially designed for players who have to do a lot of jumping. Stable and comfortable, these are a good choice. It is easy for players to run and move in these shoes, and their performance is enhanced.
As a result of the unique design, players can make quick, precise movements on the court with great support and stability. A wave plate is strategically positioned on the heel of the shoe, so the foot is stable as it jumps and lands. Synthetic materials make up the shoe's upper, which is durable yet lightweight.
While still maintaining flexibility and breathability, this ensures a snug fit. In addition to the non-marking rubber outsole, the upper offers outstanding durability and traction indoors. Furthermore, the Wave Momentum 2 is equipped with an extra shock-absorbent cushioning system for your feet and ankles.
Additionally, these libero shoes have a lightweight foam midsole for a responsive and comfortable ride. With this cushioning system, foot and lower leg impact is reduced during intense play. Wave Momentum 2 offers a comfortable fit and true to size. Additionally, there is a wide range of colors available for the shoe, so players can choose the one that suits their tastes.
As an overall high-performance volleyball shoe, the Mizuno Wave Momentum 2 provides support, stability, and traction. Players of all levels will benefit from the shoe's combination of features, which are designed specifically for indoor play.
Asics Sky Elite FF
The Sky Elite FF is the latest offering from Asics, a respected name in volleyball shoes. For indoor and outdoor volleyball, Asics are the best shoes for liberos. They provide a variety of features for volleyball players.
The Sky Elite FF's lightweight design is one of its most noticeable features. A lightweight shoe only weighing 10.5 ounces, this shoe is great for players who need to change direction quickly. Players can also get closer to the ground with the low-profile design, which aids in stabilization.
In addition to excellent traction, the Sky Elite FF offer excellent fit and comfort. Players can change directions quickly and move quickly without slipping due to the outsole's herringbone pattern. The Trusstic System on this shoe helps to reduce its weight without degrading its structural integrity.
There are also several features on the Sky Elite FF that improve the fit and comfort of the shoe.
Players with special foot needs can get the support they need with the shoe's removable orthopedic sicklier, which is made from synthetic mesh material that is both breathable and flexible.
Last but not least, the Sky Elite FF is built to last, with durable construction that can stand up to regular play. With a reinforced stitched toe cap and a heel counter, this shoe offers abrasion resistance. Running and jumping are also smooth with grass volleyball shoes.
It is a well-cushioned, lightweight, durable, and durable shoe that makes it the best volleyball shoe for liberos. With its many features and technologies, it provides you with the performance and support you need.
ASICS Upcourt 3 Volleyball Shoes
Asics is known for its high-quality volleyball shoes and the use of cutting-edge technologies in their products. One of Asics' top-quality volleyball shoes is the Upcourt 3.
SOLYTE is used as a midsole material in these shoes. The density of these materials is lower than those of other materials. By doing so, the shoes become as lightweight as possible. You can move faster and faster in lightweight shoes without expending much energy.
Despite the fact that these shoes are very lightweight, they have excellent cushioning. You will be protected from ankle and knee injuries with this device. When you play on the court, you won't feel any discomfort.
In order to provide more stability, the outsole has been rolled up at the heel. Forefoot areas are covered with a material that restrains the left and right centers of gravity. Whether you're on the court or off, the shoes will maintain your form.
AHAR is used as the outsole material because of its high wear resistance. You can use it for one or two seasons because it's durable. You can also use them on indoor and outdoor court surfaces since their outsoles are non-marking.
Also included in these shoes is an EVA sock liner that can be removed to accommodate an orthotic. The tongue is quite thin, so it is easier to move around, but it may not offer as much protection as you would like.
They perform well and are reasonably priced. Shoes are cut short in the area of fabric cutting. There is no real difference in performance, so it's a great compromise between looks and performance.
It may take a while to get used to the shoes, but they do get better with time. Liberos will benefit from this pickup. A pair of shoes should last between one and two seasons.
ASICS Men's Gel-Rocket 10 Volleyball Shoes
This awesome indoor court shoe will help you produce your best at your next big game. You can take big strides on the court without feeling any discomfort because of the excellent cushioning.
In addition, the rubber outsoles provide excellent traction while you're walking. These amazing shoes will give you confidence, comfort, and control, which will help you take your volleyball game to the next level!
Volleyball players looking to improve agility and reduce strain on their feet while maintaining stability should consider ASICS Gel-Rocket 10 Volleyball Shoes.
Compared to traditional grip soles, ASICS Trusstic System technology allows the player to move more quickly during intense matches due to its reduced weight.
This top is ideal for players who play fast and responsive games and require extra stability as well as comfort in long games.
ASICS Men's Gel-Tactic 2 Volleyball Shoes
You can't go wrong with ASICS Men's Gel-Tactic 2 Volleyball Shoes! A lightweight, comfortable shoe specifically designed for libero players, these shoes give players unbeatable mobility and fast reflexes.
With ASICS Men's Gel-Tactic 2 Volleyball Shoes, you can move around the court easily, so why not take your performance to the next level? You won't be stuck in traffic for long in these shoes – whether you're a pro or an amateur!
With reliable traction and cushioning, these Asics volleyball shoes are sure to give you a competitive edge. With its N.C. RUBBER outsole, you'll be able to grip virtually any surface, making it suitable for intense rallies and serves.
The ASICS Gel Cushioning System also absorbs shock and strain during play, so you can take your game to the next level and play longer without interruption.
The ASICS Men's Gel-Tactic 2 volleyball shoe is a great option if you're looking for superior performance and comfort.
Nike Giannis Immortality
A variety of features make the Nike Giannis Immortality the best cheap volleyball shoes for liberos that help players perform at their best. Designed to fit Giannis Antetokounmpo's personalized playing style, this shoe is his signature shoe.
The Giannis Immortality instantly stands out due to its distinctive design. There is no doubt that this shoe will turn heads on the court with its bold, futuristic design. Mesh and synthetic materials make up the upper of the shoe, which ensures comfort and breathability.
Designed to provide great support and stability, the Giannis Immortality is a great volleyball shoe for liberos. Large Zoom Air units provide responsive cushioning in the shoe's heel. As well as providing additional stability and support, the shoe also features a TPU plate in the midfoot.
Rubber provides excellent traction on the court, while the herringbone pattern on the outsole ensures comfortable wear. It's lightweight and flexible, allowing liberos to move quickly on the court and change directions quickly.
Low-profile design also improves balance and stability since the shoe is closer to the ground. In addition to being built for durability, the Giannis Immortality can withstand the wear and tear of regular play.
In summary, the Nike Giannis Immortality basketball shoes provide excellent stability, support, and a unique design for basketball players seeking a shoe that offers excellent support. With its many features and technologies, you can be sure that your game will be taken to a whole new level with this product.
ASICS Women's Gel-Rocket 9 Volleyball Shoes
Do you want to be the best libero on the court with superior traction and stability? Take a look at the ASICS Gel-Rocket 9 Volleyball Shoe for Women! An outsole that is non-marking and durable provides outstanding grip and stability.
With these shoes, you'll stay in top playing shape day after day, whether you're jumping to block or running during defense. Volleyball liberos take their game seriously, and these shoes are designed to keep your feet comfortable without overexerting them.
Gel-Rocket 9 volleyball shoes feature ASICS' Trusstic System technology, which absorbs shock to maximize performance. The cushioning insole extends all the way down to the sole, ensuring full arch support and protection.
With their Lateral Forefoot Sculpting technology, ASICS designers have made sure these shoes wrap around your foot while still providing you with ample room.
With ASICS Women's Gel-Rocket 9 Volleyball Shoes' Trusstic System technology and Lateral Forefoot Sculpting, you'll experience both comfort and stability.
Adidas Originals Crazyflight Bounce 2
If you're talking about volleyball shoes, Adidas usually doesn't come to mind. However, Adidas makes excellent volleyball shoes at an affordable price. Since its founding in the sporting world, Adidas has proven that its products are of high quality.
It's hard to find an affordable shoe as good as the Adidas Originals Crazyflight Bounce 2.
Liberos can freely move and perform quick and agile moves thanks to the lightweight and flexible nature of these shoes. It's for that reason that I recommend them as the best affordable volleyball shoes for liberos.
With a wide sole, these shoes provide stability and are ideal for athletes with wide feet. As a result, your feet will stay cool and dry throughout the game with its breathable mesh upper.
During digs, slides, or dives, liberos are protected by a translucent compound.
A Bounce midsole provides enough support for your feet while reducing the impact of foot landings. Since liberos dive constantly for balls, having this feature protects your feet from injury.
With the polyurethane sock liner providing shock absorption, these volleyball shoes provide great foot protection. You won't slide your foot inside the shoes due to this polyurethane sock liner.
Volleyball shoes with an underside that has excellent traction provide excellent traction on polished wooden floors. It features a minimal tread pattern, which makes it easier to change directions on smooth floors.
They can also be used indoors and outdoors since the outsole is non-marking. The lifespan of these products can be extended by using them exclusively indoors.
Nike React Hyperset
In addition to offering a variety of features designed to help players perform at their best, the Nike React Hyperset is the best volleyball shoe for liberos. For both indoor and outdoor play, this shoe provides excellent support, stability, and traction.
You'll notice right away that the React Hyperset are lightweight. As one of the lightest shoes available, they are perfect for players who have to move quickly and change directions quickly. This is made possible by the low-profile design, which allows players to get closer to the ground for improved stability.
As well as providing excellent traction on the court, the React Hyperset boast a solid rubber outsole. Players can change direction quickly and move quickly thanks to the herringbone pattern on the outsole. In addition to providing a comfortable and responsive feel, the foam midsole also helps to reduce fatigue during play.
This best shoe for liberos also offers many features to enhance fit and comfort. Designed with breathable, flexible synthetic uppers, the shoe moves with the foot as you walk. Additional support and cushioning are provided by the shoe's padded collar and tongue.
Despite its lightweight, durable, and well-cushioned design, the Nike React Hyperset is an excellent choice for volleyball players looking for a well-cushioned and lightweight shoe. The features and technologies it offers make it a great choice.
Adidas Women's Novaflight Volleyball Sneaker
The Adidas Women's Novaflight Volleyball Sneaker will take your volleyball game to the next level! With its perfect balance of flexibility and stability, this shoe is perfect for liberos at all levels.
They will provide you with the lightweight agility and comfort you need to dominate your opponents on the court thanks to their special cushioning system that allows for maximum energy return. With this sneaker, no one can keep up with your sharp cuts and sprinting jumps on the court!
While the lightweight arch support keeps you comfortable even during the longest matches, the flexible upper allows you to move in any direction with agility and control.
As a result of the exceptional shock absorption offered by these Adidas volleyball shoes, you can perform exercises on the court with greater comfort and control. With its low-to-the-ground profile, players can maintain better balance and stability during dynamic movements thanks to its low-to-the-ground design.
By using this new design, you'll be able to block better defensively, move faster laterally, jump faster, and perform better overall, resulting in an excellent gaming experience.
Adidas Stabil Next Gen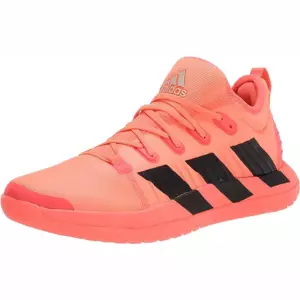 A new handball shoe designed to help players perform at their best, the Adidas Stabil Next Gen offers a variety of features. For both indoor and outdoor play, this shoe provides excellent support, stability, and traction.
It is the best libero shoe from Adidas that has a unique design, the Stabil Next Gen. There is no doubt that this shoe will turn heads on the court due to its sleek, modern look. With a mesh and synthetic upper, the shoe provides a comfortable and breathable fit. As well as the unique lacing system, the shoe also offers additional support and customization options.
On the court, these shoes offer excellent stability and support. TPU plates provide additional support and stability in the midfoot. With its rubber outsole featuring a herringbone pattern, the shoe provides excellent traction on the court. Added stability and support are also provided by the shoe's heel.
Due to the shoe's lightweight and flexibility, it is easy to move around the court and change directions quickly. Low-profile shoes provide greater stability and balance due to their closer contact with the ground.
What Makes the Best Volleyball Shoes for Libero?
| Features | Benefits |
| --- | --- |
| Lightweight | Agility improved |
| Great stability | Movement control is improved |
| Great traction | Mobility is improved |
The volleyball shoes that you wear as a libero should have certain characteristics. You will not only benefit from these features based on your position, but also from their impact on your overall performance.
Stability
Libros should wear volleyball shoes with excellent stability. Shoes should be well-balanced and keep the feet firmly in place because liberos move a lot.
It may cause injuries or make you feel uncomfortable running around in volleyball shoes with poor stability.
Lightweight
Lightweight volleyball shoes should be used by liberos. Their movement is much faster since they don't have to carry heavy shoes. You will also exert more energy if you carry extra weight, which will decrease your stamina.
Cushioning
To keep the play moving, liberos dive for the volleyball as they move around the court. Volleyball shoes that provide foot protection are therefore necessary for liberos.
Make sure your volleyball shoes have a good midsole that will support your feet. It is also important to check for features such as shock absorption, impact protection, and preventing your feet from sliding inside your shoes.
You may want to look for volleyball shoes with removable insoles if you suffer from foot problems.
Traction
Your movements on the court will be effortless due to the great traction you have. In addition, it will allow you to change directions quickly and at a higher speed.
If you are looking for the best volleyball shoes, this is the last thing that you should consider.
Top Brands for Volleyball Shoes
Liberos have excellent options when it comes to volleyball footwear from a number of brands. The following are some of the top brands:
What to Look for in Volleyball Shoes for Liberos
Aside from features, you should also consider other factors. If you are choosing volleyball shoes, you should also consider your situation and personal preferences.
Durability
In order to buy volleyball shoes that last a long time, you need to make sure they are durable. You should also keep in mind the price might be higher as well. If you play volleyball regularly, you can expect your volleyball shoes to last for 1 to 3 seasons. You can extend the lifespan of your shoes and keep them in good condition by maintaining them properly.
Size
Small and large sizes are available in volleyball shoes. Before buying volleyball shoes, you should take this into consideration. The size of some people's feet can also differ. It is important to consider whether your feet are wide or narrow before buying or you may feel uncomfortable.
Additionally, volleyball shoes for men and women need to be distinguished. Various methods are used to make them.
Price
It is important to determine your budget before buying volleyball shoes. It is important to be realistic about the features you will receive for the price you choose.
What are the benefits of wearing the best volleyball shoes for a libero?
A libero's success on the court depends on having the right volleyball shoes. In addition to providing protection on the court, wearing volleyball shoes specifically made for liberos increases agility and speed.
As you move laterally across the court as well as vertically coming down from a jump or dive, these types of footwear provide you with more control.
In addition, they feature heavy padding around the ankles, allowing you to jump around to save balls while still remaining flexible enough to make quick cuts and shifts off balance during practice drills.
During warmups and between sets, good shoes will also feature cushioned soles and midsoles to absorb extra shock as you jump up and walk across slippery floors.
Liberos need specific protection and mobility, which other volleyball shoes don't offer.
What are the different types of volleyball shoes for liberos?
In terms of volleyball shoes, there are many that are designed specifically for liberos. In comparison to other types of court-sport shoes, these shoes have specific requirements.
Low-top ankle supports are necessary for liberos because they must be able to move quickly and dynamically. Due to this, many companies have produced low-top models that are lightweight and breathable and provide full mobility and support.
In addition, they should offer adequate traction to ensure players don't slip or fall on the court.
Are basketball shoes good for a libero?
It is not recommended to wear basketball shoes while playing volleyball in the backcourt as a libero. During play, players may find it difficult to move quickly and safely due to the lack of traction.
Basketball shoes may not provide the best protection against heel pain or ankle soreness when you're playing volleyball because it requires quick changes in direction and lateral movements. Choosing volleyball shoes that support your ankles is the best choice for you
Specialized volleyball shoes offer superior traction on all types of surfaces, as well as excellent cushioning. There are several features found in volleyball shoes not found in basketball shoes, including increased lateral stability, ventilation holes to allow air to flow, and gum rubber soles to provide improved traction.
Also, the extra cushioning in the midsole of these shoes can reduce knee stress during quick movements, which are common in libero games.
You may enjoy reading Should Volleyball Players Wear Ankle Braces?
How We Choose The Best Volleyball Shoes for Liberos
It can be difficult to choose the right volleyball shoes when you want to buy a new pair.
When you're shopping online, finding the best product can be challenging. How can you tell which product to trust from so many reviews and products?
You don't have to do anything but sit back and relax. In order to come up with our list of the best shoes for liberos, we combed through hundreds of user reviews and star ratings. We have something to suit everyone, no matter how experienced or novice you are.
You may enjoy reading Are Running Shoes Good For Volleyball?
FAQS
What are the best libero volleyball shoes?
Shoes for liberos should consider a few important factors.
Liberos tend to cover a lot of court space, so they must wear lightweight shoes that are cushioned and supportive.
Due to the sudden starts and stops during the game, they should have excellent grip on different surfaces.
Defensive specialists need shoes that balance agility and protection.
What are the prices of the best shoes for liberos?
There is no substitute for the best in volleyball shoes when it comes to liberos. You can spend anywhere from $50 to over $200 on the ideal volleyball shoe for liberos, depending on your budget and needs.
It's all about finding the right volleyball shoe that suits both your playing style and budget; by researching what features are most important to you, you shouldn't be disappointed with your choice.
What Is the Best Volleyball Shoe Brand for Liberos?
The most famous brand of shoes for liberos is Mizuno. Their shoes are comfortable and capable enough for liberos' intense gameplay. Adidas, Nike, and ASICS are other brands.
Which Volleyball Shoes Do Professional Liberos Use?
Asics Sky Elite FF is the most popular shoe for liberos. In addition, Mizuno Wave Momentum 2s are used by liberos a lot. The elite players, however, tend to try many shoes throughout their careers, so they don't have a clear favorite.
Do Volleyball Shoes Make a Difference for Liberos?
Yes, because their shoes are lighter. The insoles of liberos do not need to absorb shock since liberos are not attackers or defenders. As a result, they can wear lightweight shoes that make them move more quickly than anyone else.
Conclusion
Volleyball liberos should get these shoes right now. Considering that you'll be on the floor for quite a while, you should ensure that your feet have the right support and cushioning. The volleyball shoes made by Mizuno, Asics, or Adidas are really good.