Both players and spectators have long been curious about volleyball shorts, which have long been a topic of discussion.
The purpose of this article is to explore the fascinating world of volleyball attire, specifically the burning question, "Why are volleyball shorts so short?"?" I will unravel the reasons behind this unique choice of sportswear.
Short Volleyball Shorts!
Volleyball coaches often hear parents who are new to volleyball ask, "Why are the volleyball shorts so tiny?"
This seems to be a hot topic among everyone. People claim this is to attract more spectators and increase sex appeal (if this is the case, it's a failure). Many people believe it's because young girls these days just love to strut their stuff. Some point to history and physics as explanations for why girls wear shorts like these.
Having been a coach, I understand how uncomfortable the shorts can be for parents and players. Back then, bun huggers were just going out of style and spandex was just beginning to gain traction.
I played volleyball in the '90s (the era of baggy pants and flannel). The first set of volleyball shorts I ever wore was basketball height, and my shirts were loose-fitting and long-sleeved.
A cap-sleeved jersey and short spandex shorts completed my outfit. Having so many legs exposed in short shorts made me uncomfortable enough! It is completely understandable that girls and parents want volleyball to be more modest.
It would be uncomfortable for me to wear the uniform my players wear! Other kinds of shorts are not acceptable to my players.
You can also read How To Run a 6-2 Volleyball Rotation
History of Volleyball Shorts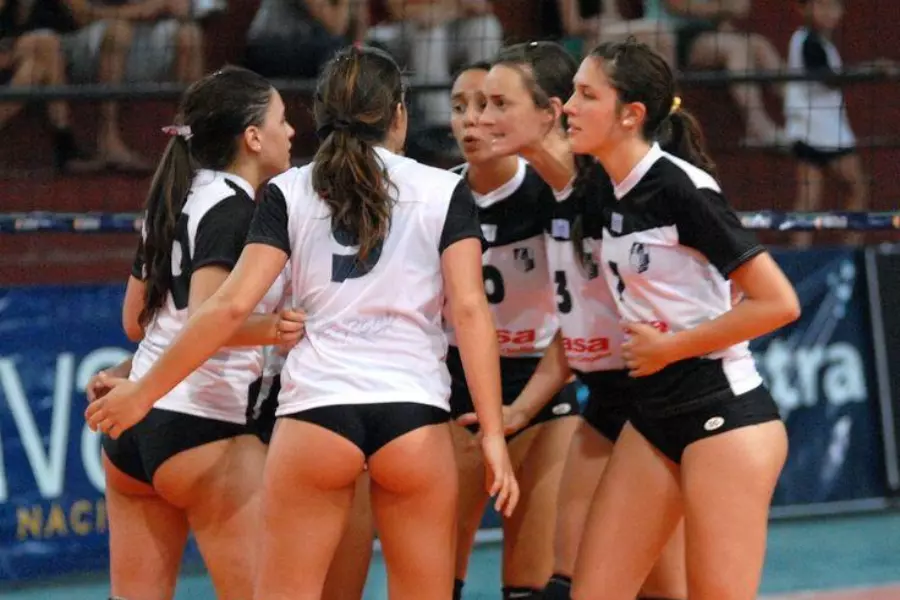 In the beginning, volleyball was predominantly a men's game in the late 1800s. Before the NAIA and NCAA introduced the sport to high schools and colleges as a varsity sport in the 1970s, women were not allowed to play it at the international level.
Fashion dictated the uniforms of women playing volleyball in the 1970s. Wear mid-length shorts and a form-fitting shirt (but not too tight).
During the late 1970s, players began switching their uniforms to spandex as it became more popular. Across the world, women were wearing "bun huggers" with increasing frequency, also known as "bun tops".
There was a bikini brief-like appearance to these spandex bottoms. Their high-cut design allowed them to move freely. Shorts of this specific cut were commonly prone to riding up on the bottom, exposing greater amounts of the rear end than intended or wanted, which was one of the downsides of this cut.
Bun huggers held on despite their many disadvantages for quite a long time. The transition to more traditional short styles really didn't begin until the late 1980s and early 1990s. During the 1994 volleyball season, I remember talking to a friend about how horrendous our volleyball uniforms were and then being grateful we didn't have to wear the old-school bun huggers.
At that point, they hadn't been phased out completely!
Late in the 1990s, spandex volleyball shorts became popular again. With a little more length this time. Many teams originally transitioned from traditional shorts to spandex shorts by wearing 4″ spandex shorts.
However, they often quickly switched to 2″ spandex shorts. There was just too much movement in the longer shorts. To get them back into place, players would have to tug at them or find too much material had crept upward into uncomfortable places.
In the United States, nearly all female volleyball teams wear spandex shorts as part of their uniforms. A few schools (often private religious-based schools) wear mid-thigh shorts instead of spandex shorts, which often violates the school dress code.
In an ironic turn of events, nearly all of those players wear spandex under those shorts to avoid being exposed when diving and rolling.
You can also read Best Setters In Volleyball
The Comfort Factor
Enhanced Performance
Volleyball shorts are popular because they are comfortable. As a result, players are able to concentrate solely on their performance during strenuous matches, free of chafing and friction between their thighs.
Lightweight Material
Players stay cool and comfortable during the game by wearing volleyball shorts made from lightweight, breathable materials that wick away sweat.
Aesthetic Appeal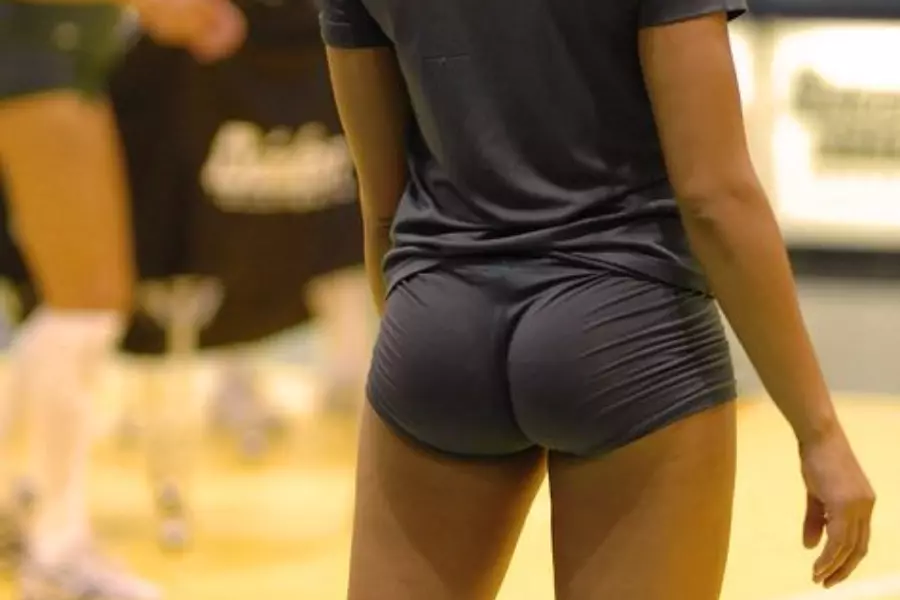 A Sporty Look
Volleyball shorts emphasize athleticism and agility while contributing to the overall sporty aesthetic. They provide a dynamic appearance that is appreciated by players and fans alike.
Confidence Booster
In addition to boosting their confidence and body image, short shorts can make athletes feel more self-confident on the court.
Uniformity and Fair Play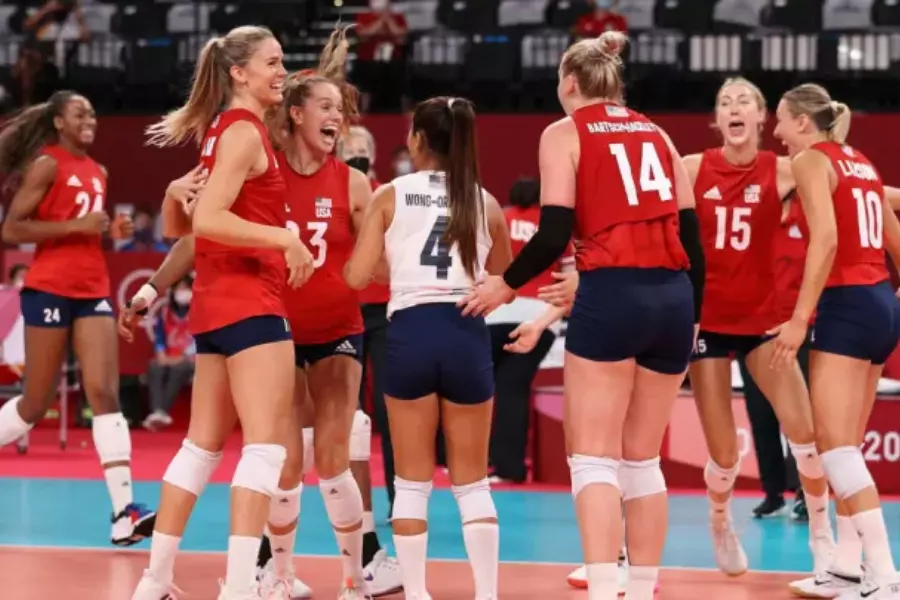 Standardized Uniforms
It is standard for volleyball shorts to be uniform among players, ensuring uniformity. Individual players cannot benefit or disadvantage from this standardization, which extends to the length of the shorts.
Fair Competition
Clothing-related distractions and disparities are eliminated with short shorts, which guarantee a level playing field.
You may enjoy reading Volleyball Positions & Player Roles
Why Are Spandex Preferred in Women's Volleyball Today?
It's a hot-button topic, isn't it?
Despite what many would have you believe. Neither the shorts nor the spectators were chosen with the intention of sexualizing your daughters. Comfort and practicality were the reasons for choosing the shorts.
In the first place, spandex shorts are chosen because of their range of motion. There is no restriction in the range of motion of its occupant when wearing spandex shorts.
In volleyball, the player often flies through the air or is very low to the ground, which requires flexible clothing. Especially if you have larger thighs like many female back-row players, try doing 50 lunges in your traditional shorts and see where they end up.
The short spandex shorts move less than traditional shorts, which bunch and move more. Jumping repetitively is no different.
Perform a few backward somersaults while wearing your traditional shorts. During your somersault, ask someone to take a picture of you. Have you seen your shorts? Do you have your underwear exposed? Are the shorts bunched up weirdly when you stand up? It's another reason why spandex shorts are preferable to traditional shorts.
The volleyball player typically dives, does a shoulder roll, and is back on the court within seconds. By wearing spandex, you'll be able to move freely without worrying about exposing anything you didn't intend to!
The moisture-wicking properties of spandex also make it a beneficial material. Their comfort is on par with, if not better than, wearing underwear. After a few months of getting used to spandex, experienced players don't even notice they're wearing it. It may never be necessary for players to adjust or think about it again.
Last but not least, volleyball players I know love wearing them. Fashionable and comfortable, they find them appealing. Their favorite thing about practicing is finding new spandex in bright colors and patterns. As a result of Nike Pro spandex shorts, Nike has really carved out a niche market for itself.
Every time someone has a new pair of Nike, they admit to being jealous and talk about the new patterns Nike has released. Fashion and vanity are certainly at play here, but they wouldn't have lasted this long for their own sake, and certainly wouldn't have reached the international stage if they were purely motivated by fashion and vanity!
The use of spandex as a uniform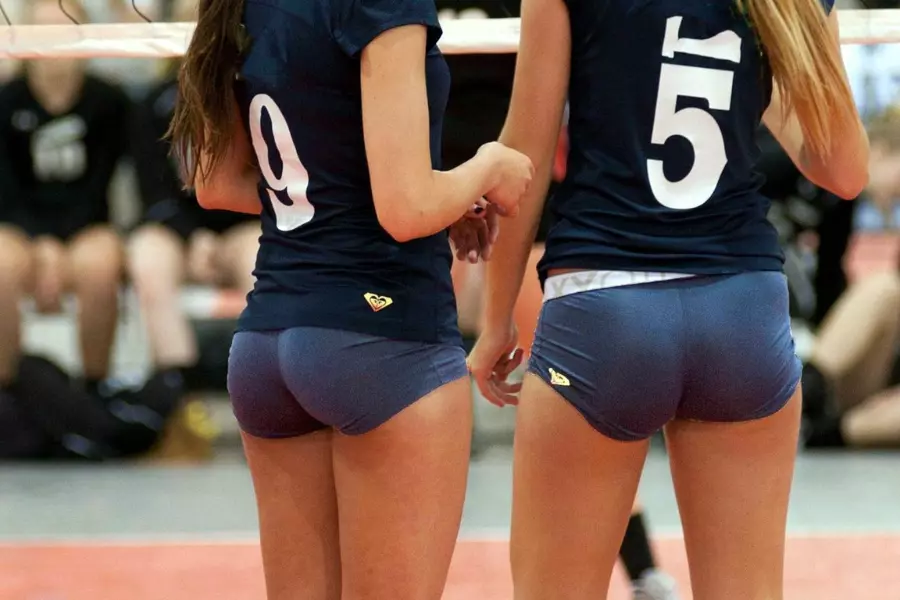 Then why doesn't the men's team wear spandex if it is so beneficial to volleyball players?
This can be explained in a couple of ways. First and foremost, wearing itty bitty spandex shorts for men is not fashionable, nor is it practical given the different equipment that men have at their disposal. Wearing spandex may pose less risk to women while posing a greater risk to men.
In addition, men do not benefit from the advantages that women do. Shorts tend to ride up less on men's thighs because they are generally shaped differently. The game is also played differently by women than by men.
Women are more flexible and agile than men in this game. There is a real dominance of power over agility in the men's game. However, there are players who go to the floor as well! Yes, they do! Playing this game is different from playing it with women.
Motions aren't necessarily used in the same quantity and types as by women.
Do Girls Wear Anything Under Volleyball Shorts?
Girls often wear shorts without anything underneath when playing volleyball in hot weather. As a result, they can stay cooler during the game and feel more comfortable. In order to provide extra coverage and support, some girls may wear underwear or spandex shorts under their volleyball shorts.
In order to minimize visible panty lines, what undergarments are required? Most athletes opt for seamless thongs, boyshorts, v-strings, or g-strings depending on their needs.
It is possible for women to wear a thong with no visible lines when wearing spandex volleyball shorts. The uniform of a female volleyball player in the United States includes spandex shorts. You can conceal embarrassing jeans leaks by wearing dark pants.
High-waisted skirts and pants can help you avoid bloating (ideally stretchy or loose). While playing sports, period underwear or pads are allowed, but they are not allowed in the pool.
Wearing a tampon or cup during your period is recommended rather than swimming or engaging in other activities. It is common for volleyball players to use tape on their fingers to prevent cracking of their fingertips and pads.
According to Fingall, spandex is used to exploit female volleyball players. Players who are shorter have faster reaction times and are better at passing the ball when playing defense. Pockets in your shorts will make the game impossible.
The options available to men when it comes to clothing are greater than those available to women. Clothing for men is made of synthetic fibers that are breathable and remove sweat from the body. In addition to spandex shorts, close-fitting shorts are also available.
The fit and comfort of a standard workout short should be better than that of a spandex short.
However, standard workout shorts should be less tight or short than a pair of baggy shorts. Women and men alike must wear comfortable and protective sports clothing when playing sports.
Casual games are best played in tops that are current in style. Women and men need to wear comfortable and protective gear when playing sports.
Fined Norway's Female Volleyball Team
In a violation of the European federation's clothing regulations, the Norwegian volleyball team has been fined 1,500 euros ($1,770 US). Shorts are required for men, while bikini bottoms are allowed for women.
Don't miss out on what's happening. A fine of 1,500 euros ($1,770 US) was imposed on Norway's female team at the European Beach Championships in Bulgaria last week for wearing inappropriate clothing and not complying with clothing regulations.
Who fined the Norwegian hmm team? During their recent bronze medal match against Spain in Bulgaria, Norway's shorts did not comply with the athlete uniform regulations, resulting in the team being fined by the European Handball Federation.
When it comes to track and field, are there any serious risks associated with wearing shorts? Boxer-style bottoms or compression bottoms can be worn by boys and girls.
For this purpose, girls should wear closed-leg briefs. In competitions, body suits and compression garments may be worn by contestants, but male contestants must wear shorts underneath.
How Long Should Volleyball Shorts Be?
A volleyball short's inseam is typically 3 inches, but it can be longer or shorter depending on the player's preference. It's important to choose something that's comfortable while still not detracting from your game if you have to play volleyball long.
Women usually wear spandex shorts on the court when they play volleyball in the United States. An ideal volleyball short for men should not be too long, but it should not be too short either.
You can move your limbs as quickly as if you weren't constrained by clothing when you wear spandex. During impact, volleyball players wear knee pads and arm sleeves to protect their knees and arms. You can read the guide on wearing knee pads.
In addition, long sleeves will prevent you from getting as many floor burns as short sleeves. Multicourt shoes can be described as a combination of basketball shoes and volleyball shoes. What is the best way to prevent cameltoe in volleyball shorts? Volleyball shorts are not allowed to have pockets; it is a legal requirement.
Why Girls Wear Short Shorts In Volleyball
As girls have shorter legs, volleyball shorts must fit snugly around them due to their shorter legs. The player may be able to catch the ball earlier if he or she wears shorter shorts, which increases the chances of catching the ball before it reaches them.
Spiking the ball into the air should not be the opponent's goal. In addition, most volleyball teams at schools are made up entirely of girls, so they want to look their best. Women feel more confident in their abilities when they wear short shorts.
You can also read What To Wear For Volleyball Tryouts
Why Do Volleyball Players Wear Shorts?
During volleyball games, it is required for players to wear short shorts in order to be able to move freely and quickly. It is also important that the shorts are tight so that they do not fall off when the player jumps or moves.
It has always puzzled me why volleyball spandex shorts for women are so short and tight. In a relationship, is sex appeal the most important factor? What other conspiracy theories have we been unable to figure out? You can move your limbs as quickly as possible without wearing clothing because spandex has a light, non-intrusive feel.
If you wear spandex shorts for sports, they perform significantly better. It would not be long before they were phased out of international use if their sole purpose was to attract females to the game. Unlike women's volleyball, which emphasizes agility rather than power, men's volleyball emphasizes power.
You can also read What Is A Libero In Volleyball?
Too short Olympic volleyball shorts
In the Olympics, female volleyball athletes wear short volleyball shorts that some think are too short. Shorts like these are considered more like underwear than shorts because they are so short.
A controversial topic is whether the shorts are too short, with some people believing that athletes should wear whatever they feel comfortable in.
Why Are Female Beach Volleyball Shorts So Short?
There are many people around the world who enjoy beach volleyball. There is no clothing required for the game, which is played on a sand court. There has been some debate about why women players wear such short shorts.
It is argued that the shorts are too short for a family beach setting and that they are inappropriate. Many of the players argue that shorts are necessary in order to move freely and not reveal their bodies.
So, why are female beach volleyball shorts so short? Several factors contribute to this. In order for players to be able to move freely, shorts are necessary. The second benefit of the shorts is that they keep sand out of the players' clothing. In the hot sun, shorts help players stay cool.
A fourth benefit of the shorts is that they provide protection from sunburn. The short length of female beach volleyball shorts has a few reasons. A player's choice, however, ultimately rests with them as to whether or not they wish to wear shorts of this length.
You can also read Wisconsin Volleyball Team Leaks Scandal
Why Do Women's Beach Volleyball Players Wear Such Skimpy Outfits?
It is argued by some that women's beach volleyball players wear skimpy clothing as a form of objectification. In addition, other athletes argue that the players are not sexualized by the clothing because it is practical for the sport.
Although the clothing does tend to show off the players' bodies in a way that isn't common in other sports, there is no denying the fact that the clothing does show off the players' bodies.
Bikinis are worn by players according to Jennifer Kessy, a silver medalist in beach volleyball at the 2012 London Olympics. As the first sport to be added to the Olympics, beach volleyball made its debut in Atlanta in 1996. Shorts and tops with sleeves were allowed for female athletes at the 2012 Olympics. Bikini bottoms are most frequently worn by players who serve the ball.
The importance of fabric-made clothing cannot be overstated. Sand will be trapped in the material if it's too thin or too hot. Your fit must be tailored to fit your body perfectly since each body is unique. To be able to remove sand from the fabric, the fabric must be able to withstand the beating.
Whether you think female sports uniforms have too much skin or not, the facts remain the same. Wearing less material allows women to move more freely and increases their performance. Women are more likely to be injured when they wear restrictive uniforms. As for player preferences, it depends on their comfort level and preferences.
Also, read At Long Beach State, the women's volleyball team swept
Players' uniforms are criticized for being too revealing
It has been criticized in the past that beach volleyball players' outfits are too revealing. A volleyball player typically dives for a ball, performs a shoulder roll, and returns to the court within less than a minute.
When you wear Spandex, you won't have to expose anything you didn't intend to. In some cases, women's volleyball uniforms are still too revealing, especially around the chest area. It is possible to explain this phenomenon in several ways.
As you watch volleyball, you'll immediately notice how much flesh is exposed. Fast-paced games require players to be able to move quickly. The game of volleyball requires players to be able to hit the ball in all directions since it is a contact sport.
FAQs
What Are Volleyball Shorts Called
A volleyball short is also known as a spandex short. Shorts made of Lycra-type fabrics are generally tight-fitting. A full range of motion is possible when playing volleyball with this fabric because it is stretchy.
Do all volleyball players wear short shorts?
The short shorts are worn by both male and female volleyball players to ensure uniformity and freedom of movement.
Are there any regulations regarding the length of volleyball shorts?
In order to maintain fair play, volleyball shorts must comply with regulations. Standard length is required.
What material are volleyball shorts typically made from?
Comfortable and moisture-wicking volleyball shorts are usually made from lightweight, breathable materials.
Are short volleyball shorts just a fashion statement?
Their primary purpose is to improve performance and comfort, which is why they are so popular.
Do volleyball shorts come in various styles and designs?
While adhering to standard length regulations, you can select from a variety of styles and designs.
Do male and female beach volleyball players wear the same shorts?
According to FIVB guidelines, both male and female players wear short shorts.
Conclusion
I'm sure you've read the history of the shorts and what is behind why volleyball players wear those small spandex shorts, but what do you think about them now that you have read the history of them? Do you plan to buy it? Would you like to see the uniform changed? Are the shorts sexist to you? Leave a comment below and tell us what you think!
You can also read What Is An Ace in Volleyball?